Overview
- Beloved by the great maestros around the world -
"It's a real treasure"

- Sir Simon Rattle

"It's my dearest hall. ...I really love it!"

- Marris Jansons
MUZA Kawasaki Symphony Hall opened on the 1st of July 2004 to symbolize the City of Kawasaki's concept "The City of Music".
The Main Concert Hall has 1,997 seats which surround the stage in a spiral form, known as the vineyard-style arrangement. The structure enriches the quality of music while creating a sense of intimacy. We are also proud of the sophisticated acoustics which is highly acclaimed by the world-famous maestros (sound design: Nagata Acoustics). In addition, a multipurpose hall (up to 150 seats, movable), exhibition rooms, practice rooms, etc. are equipped.
FESTA SUMMER MUZA KAWASAKI is our midsummer music festival where you can enjoy a wonderful orchestral music as a center program but also diverse program including pipe organ music, Jazz, ballet and concerts for children. In the 3 weeks of the festival around 30,000 people visit the venue and enjoy our widely known summer event.
The MUZA Kawasaki Symphony Hall is the home of the Tokyo Symphony Orchestra (TSO) and is loved by many world-renowned orchestras such as Berlin Philharmonic Orchestra. We present wide variety of programs for every age group, such as various collaborations with TSO, Lunchtime Concert, Workshop for children and teachers, and so on.
There are always some activities for everyone!
| | |
| --- | --- |
| Official name of the hall | Kawasaki Symphony Hall |
| Label | MUZA Kawasaki Symphony Hall |
| Inauguration Day | Thursday 1st July 2004 |
| Location | 1310 Omiya-cho, Saiwai-ku, Kawasaki-city, Kanagawa 212-8557, JAPAN |
| Area | 17,243.96m² |
| Construction | Steel construction (part of place used steel-reinforced concrete) |
| Acoustic Design | Nagata Acoustics |
Management Policy
- A place where people would come together and feel each other –
The word symphony comes from the Greek words 'syn' and 'phon' which means 'with sound', where people are brought together through music.
As the name suggests, the MUZA Kawasaki Symphony Hall is a combination of MUsic + ZA ('place' in Japanese). As a place where people are brought together through music, the MUZA Kawasaki Symphony Hall offers innovative ways for every person to have the chance to interact with music making the city of Kawasaki a better place to live.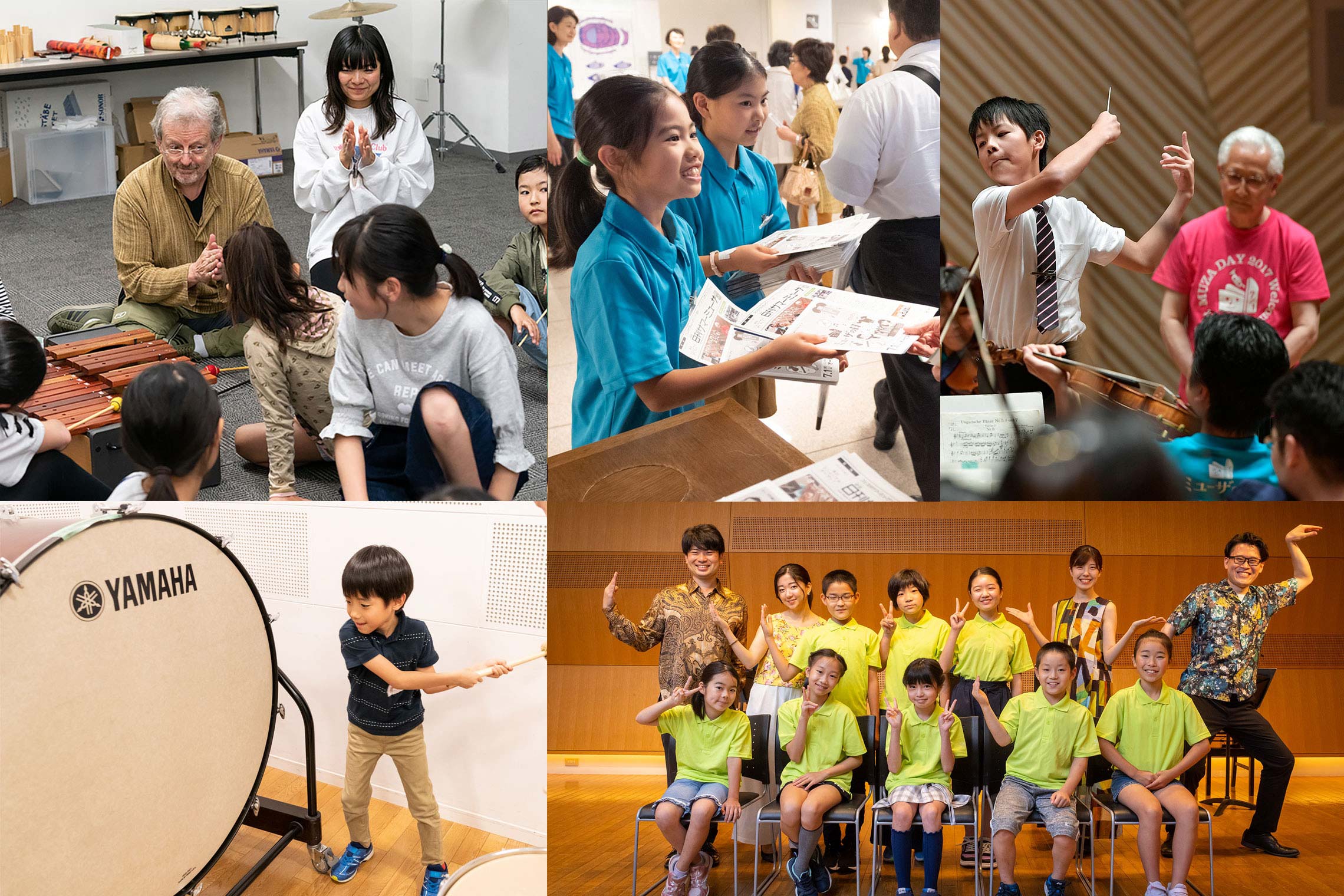 Hall Advisor System
MUZA has a very unique system called "Hall Advisor".
They are chosen from the leading Japanese artists. Hall Advisors present their own unique programs and give advices on the role and planning of the Hall. They also play an important role to promote the MUZA both domestically and internationally.
Kazuyoshi Akiyama

Kazuyoshi Akiyama

, conductor

Chief Hall Advisor

Born in 1941, Kazuyoshi Akiyama studied conducting under Hideo Saito at the Toho Gakuen School of Music.

Akiyama has held prestigious posts such as Music Director of the American Symphony Orchestra (1973-1978) and the Vancouver Symphony Orchestra (1972-1985). During this time, Akiyama's reputation spread to Europe and throughout North America, where he has been invited to conduct the Royal Philharmonic Orchestra, the NDR Symphony Orchestra, the Orchestre de la Suisse Romande, the New York Philharmonic, the Boston Symphony Orchestra and many others.

He is the recipient of numerous highly prestigious honors in Japan including the Person of Cultural Merit (2014) for his outstanding cultural contributions.

Akiyama currently holds the title of Conductor Laureate of the Tokyo Symphony Orchestra, the Kyushu Symphony Orchestra and the Vancouver Symphony Orchestra; Honorary Conductor for Life of the Hiroshima Symphony Orchestra, and Permanent Conductor and Music Director of the Chubu Philharmonic Orchestra.

In 2014, he celebrated the 50th anniversary of his conducting career.

Naomi Matsui
© Akira Kinoshita

Naomi Matsui

, organ

Hall Advisor

Naomi Matsui graduated from Kunitachi College of Music, where she also completed a master's program. She continued her studies at the Freiburg State University of Music where she obtained her Konzertexamen with highest distinction. She has won first prize in various national and international competitions, including the 2nd Japan Organ Competition and the 21st Budapest International Competition. She gives recitals regularly in Japan, Europe, and Asia, and has been actively involved in performing with major orchestras worldwide. Her eight-year project "J.S. Bach: Complete Works for Organ," which began in 2014 at Musashino Civic Cultural Hall and has just concluded in 2022, has received rave reviews. Currently, she serves as organ advisor and instructor at Musashino Civic Cultural Hall, as well as at MUZA Kawasaki Symphony Hall. She is professor emerita at Seitoku University.

Noriko Ogawa
© Patrick Allen operaomnia.co.uk

Noriko Ogawa

, piano

Hall Advisor

Noriko Ogawa has achieved considerable renown throughout the world since her success at the Leeds International Piano Competition. She appears with all the major European, Japanese and US orchestras. Ogawa is a recording artist for BIS Records. Her Complete Debussy Piano Music has won critical acclaim. Ogawa has received the Japanese Ministry of Education's Art Prize for her outstanding contribution to the global cultural profile of Japan. Ogawa is the Chairperson of The Hamamatsu International Piano Competition, the Advisor of Muza Kawasaki Symphony Hall, the Music Director of The Hamamatsu International Piano Academy, and the Founder of 'Jamie's Concerts'.

Takana Miyamoto

Takana Miyamoto

, pianist/ composer/ vocalist

Hall Advisor

Takana Miyamoto is a multi award winning, internationally acclaimed concert pianist, vocalist, composer, arranger and an educator. She has traveled and performed in over 30 countries worldwide, and currently bases herself in back Japan since 2013.
Takana's music go beyond genres ranging from jazz, pops, rock, film music, semi-classical to full orchestra. Her story-telling piano sound and music writing are featured on several albums and concerts of the multi-Grammy nominated jazz artists Kirk Whalum (sax), Nnenna Freelon (voc), Rene Marie (voc), Grammy winner Irene Cara, and Japanese greats such as Junko Yagami (winner of Women Songwriter's Hall of Fame 2022/USA), Chikuzen Sato, Lisa Ono, May J., Ayaka, Sarah Alainn, Miki Imai, Maki Oguro, Jun-ichi Inagaki, TOKU, SUGIZO (Luna Sea / X-Japan) among many others.
Hall Organist
Mari Ohki
© Takashi Fujimoto

Mari Ohki

, organ

Mari Ohki graduated with her Bachelor's and Master's Degrees from Tokyo University of the Arts. She studied at Musikhochschule Lübeck and Hochschule für Musik Detmold. She won the 1st Prize at Internationaler Buxtehude Orgelwettbewerb and 3rd Prize at Prague Spring International Music Competition. She has appeared as a concert organist in numerous cities in both Japan and Europe. She is a hall organist of Muza Kawasaki Symphony Hall.
Resident Orchestra for the City of Kawasaki
Tokyo Symphony Orchestra
© T.Tairadate

Tokyo Symphony Orchestra (TSO)

Music Director: Jonathan Nott
Since its foundation in 1946, Tokyo Symphony Orchestra has received high acclaim at home as well as abroad. It became the resident orchestra for the city of Kawasaki in 2004, with rehearsals and concert performances held at the MUZA Kawasaki Symphony Hall. Additionally, the orchestra is known for its depth of commitment to musical activities for the community of Kawasaki. In partnership with the MUZA Kawasaki Symphony Hall, the Tokyo Symphony Orchestra continues to offer premium music experiences to its audience.